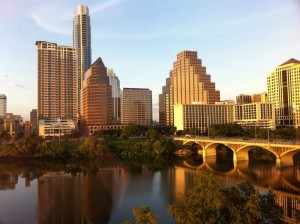 I understand that the City of Austin is finally catching up on the backlog of pending permits. KXAN had an article on their website where they explained what has happened in the last few months.  If you are considering a remodel or addition to your home,  I suggest you take the time to go to the city building inspections office and speak directly to a building code representative.  They can be very helpful to you in making sure that your proposed project can be done and fit within the city codes.  Be sure to bring with you a description of your project and an estimated square footage estimate of any additions you wish to  build. The building inspections office address is:  505 Barton Springs Road, Austin, Texas 78704.
Be aware that the offices are only open about 12 hours per week and they are not open every day of the week.  I am not providing the hours here and now because they often change their open hours and days.  It is best to call 512-978-4000 and ask about the open hours. It is best to go to the offices before the opening time and get a place in line.  This way you can be assured of seeing someone early in the day with the least wait time.  Going later can mean a much longer wait, however, so long as you sign-up before the closing hour (currently around 11:00 AM), you will get to see them even if after the closing time.
If you arrive early, go to the 2nd floor and turn right upon exiting the elevators and wait there until someone gives you a sign-up sheet or the windows are opened and you get on the list.  Then you can go to the waiting room for your turn. Someone will come and get you.  Do not go to the waiting room without signing up as you will possible be completely overlooked and you will have to come back. After consulting with City building official, seek and hire a qualified design professional who specializes in remodeling and additions. Although new building professionals can get the job done, remodeling is somewhat different and may well benefit the knowledge and expertise provided by a remodeling pro.
Once the drawings are completed to meet the permitting requirements (see requirements on copy of the building permit), get bids from a reliable contractor(s).  The City does look favorably on documents prepared by a design pro and permit forms submitted by a licensed contractor. Using these pros can speed the process of getting a permit.  Although it is possible to get permits approved by the Owner who can hire appropriate subs, keep in mind there several requirements in place which includes when and how to get your project inspected at the appropriate time and the time limit of 180 days to complete the project as well as other factors which require the contractors attention.
All of these requirements will become the responsibility of the Owner if not the contractor. I sincerely hope this information is helpful.  If you see an error or omission, please let me know and I will make corrections. If you have any questions regarding this process, please feel free to contact me at 512-892-1977 or contact me using the contact form on this site.  I will be happy to assist you as best I can.