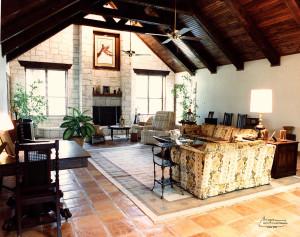 When we first buy a home, we accept the circumstances of the spaces, the environment, the circulation, the views and the relationships between them. Even though we made certain compromises, we found that it met our needs at the time. As time passes, the compromises start to erode from our original needs and we begin to think about ways to improve our way of living. Future plans come into play that were not completely expected at the time. Sooner or later we start to cope with the fact that the spaces are simply not working any more. Things have changed so much that we start to seriously consider making an adjustment.
Budget quickly becomes the primary obstacle in decision making as we look at the cost of what we want to add or modify compared to what it would take to buy what we want at some other location. The problem of course is almost always the same. As property values change based on locations the cost to remain in place becomes a major factor. To get what we want already built we have to change neighborhoods. The new neighborhoods are never like what we have and therefore the change becomes more and more about how we want to live as much as where.
But it's not just about the building itself without understanding the total environment involved with the neighborhood, proximity to work and general conveniences. When it comes time to make a decision, it becomes an added and equally important factor at that point in time. We almost always come to the same crossroads when discussing the budget. What can I do with the same money for the concept of remodeling or find something new in another neighborhood. Even if we are able to accept the idea that a change in neighborhood would be acceptable, we come up with budget concerns again because the cost of doing a remodel per square foot is almost always more than the cost of building something new. The trade off has to have some kind of value attached to make such as decision.
So what is the most important features that will give us the Quality of life we are seeking? Is it the actual living spaces? Is it how they work and join together? Is it the quality of the finishes? Maybe it is about overall comfort, views, lighting and/or family room requirements. To consider all these options fairly, sometimes we have to bring budget to the background at first and seriously consider what is really required to obtain what we need to get a fair comparison. Maybe, we find that our issues can be better described and obtained without major budget considerations. At least we should be able to narrow down what exactly we need to obtain the Quality of Life we desire.
Utilize professional help in focusing on a plan of action that is realistic and provides for the Quality of Life your truly anticipate for the future. It's not always easy to be concise until you have all the project requirements described thoroughly enough to be able to attach a dollar value to each. For instance adding a bathroom is a lot more expensive per square foot then adding a bedroom and so it is the same for a kitchen. Sometimes the addition and may or may not have bathrooms and would account for the difference in amount per square foot as well so each part of this project needs to be pulled together part by part by part until a total dollar figure can be arrived upon.
Finally on arrival at a budget that we can afford, then we really get to the final question what is the true quality of life we want to create for the money we are about to spend. It is best to make a list of the things that were trying to accomplish within this budget to get the quality of life were thinking about in terms of a family ourselves our leisure time if we want to knock out walls if we don't have enough bathrooms if we need a family room all of those dishes come into play from a perspective of a quality-of-life I think this is the most important decision one has to make.