NOTES: The owners of this residence had a long list of items they wanted to do to their 25 year old house. We took some time to discuss them all and arrange them into priorities. Some items were necessary due to money that needed to be spent on dry rot problems in an area that might be expanded later and some mechanical problems with the operation of the washer/dryer. The final plan included an addition which made more space available to the kitchen from the living room, added more space with a direct view to the outside and relocated the utility room. The remaining items were listed for phase II and instructions were written for gathering additional information prior to getting prices. They also wanted the report to be something that could be presented to the Architectural Review Board for approval to proceed. We used this report to proceed with future and final building plans.
July 9, 2001
Austin, Texas 78735
Re: Remodel of Residence
General:
This is being provided as an itemized list so each contractor can price each portion of the work in sections. Should you exceed your budget then you can pick and choose those items that you do not want to do and move them to Phase 2 of the project. I am suggesting that you proceed with the addition now due to the work that will need to be done anyway to the existing doors and exterior siding. Doing this now will help insure a homogeneous floor and wall finish out.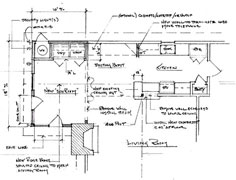 Once you receive prices from the contractor, you will need to go through the bid list item by item and make sure that each item you have specified in each room has been included.
You should use this list along with the existing plans and the remodel plans to describe the total job and to submit to the Architectural review committee for approval. Include color samples of any changes to colors or material changes to the exterior and the plot plan showing the location of the addition. If the color is to remain the same then include a photo of the front so they will have this for the record.
Plans:
Take your existing "blueline" prints of the plans to Ridgeways printing on S. Lamar and request that they make you a new set of "vellum originals". Then have them make 4-6 sets of new blue lines for your contractors to use in providing bids. Keep the new originals and one unmarked set of "bluelines" in a safe place for future reference.
Addition of new room:
Remove the existing concrete deck and pour a new concrete foundation as shown on the plan. Tie to existing slab securely. Build new walls to match existing structure and install new window and door units as selected by owner. Install beam to span 11′ from new post at fireplace to new utility closet wall. New addition shall have a ceiling to match kitchen. Refinish end of existing ceiling and transition to new ceiling at new beam. Install floor as specified by owner. Install electrical fixtures, outlets and switches as specified by owner.
Optional: While pouring concrete, pour a slab connected to existing front porch and driveway at 45 degree angle from porch to driveway following the line provide by existing stepping stones.
Utility Room:
Build new utility closet and hot water heater closet as shown on the plan. Provide a 3/4″ ledge drop in this area and slope floor to drain away from interior spaces. Doors to be specified by owner. Install upper cabinets above washer and dryer. Relocate and install the existing washer and dryer to this new location and vent to outside. Install light in ceiling and all appropriate utilities to service this equipment. Install new water heater and tie to existing water supply.
Optional: If existing water heater is sufficient to handle this new location and no other problems exist as determined by plumbing contractor, consider keeping the current hot water heater in the existing location and make this space a storage closet. Relocate access door to appropriate location.
Add Bar Counter at Kitchen/Breakfast
Remove the portion of the wall as shown on the plan. Repair ceiling exposed by the removal. Install support post in line with wall. Install new bar top at 42″ above finished floor and new wall finished to match existing below the counter top. Owner may select counter top material, but it is suggested that a quality wood top be installed then stained and finished to match existing kitchen cabinets. Relocate the electrical outlet to fit between new and existing counter tops. Install recessed lights in existing ceiling to focus on new bar and counter. Locate switch to owner selection. All light fixtures to be specified by owner.
Cabinets on wall in expanded space:
Add new wall to terminate the existing cabinets and counter top as shown on the plan. Install a corner cabinet with shelves, Provide alternate price for installation of cabinets and counter top along wall as shown on the plan. Relocate telephone on new wall per owner instructions. It is recommended that the owner explore a custom cabinet design for this area which would include a combination built-in desk, shelving, cabinets and counter tops. Relocate computer terminal and telephone to this location.
Optional: If counter and cabinets are to be install in this location, the existing wainscoting may be removed. If no cabinets are installed, the existing wainscoting shall be replace by beaded board wainscoting and stain grade trip. Stain the beaded board and the trim in 2 shades to match existing counter and cabinets. Colors to be provided and/or approved by owner.
Electrical:
Consult with owner regarding locations for wall switches and electrical outlets. Provide new security lighting to eave corners and switch from inside.
Other exterior:
Install new gutters and downspouts on all watershedding eaves of the house and insure that water drains away from the house on all sides.
Remove existing siding along the back of the house that is not being renovated and examine existing wood rot. Replace "cripple" studs and plates as necessary and install new siding and prepare for paint. Caulk and paint all exterior surfaces. Caulk all joints and cracks thoroughly with a non-mildew all weather 30 year + caulk. Scrape clean and prepare all surfaces appropriate for the paint selected by owner.
Replace the front door with new wood door and hardware as selected by owner.
Other Interior:
Paint all walls in all spaces as specified by owner. Prepare all surfaces appropriately to paint selected, caulk, fill and prepare any damages surfaces and seal any areas that have leak stains. Owner may provide a floor plan with each room showing a paint color or special finishout instructions if necessary.
Replace wallpaper in three (3) bathrooms as specified by owner
Replace light fixtures in three (3) bathrooms as specified by the owner.
Replace light fixtures in dining room, kitchen and breakfast area as specified by owner.
Replace faucets in master and upstairs bathrooms as selected by owner
Remove all existing floor materials from the downstairs (excluding Master Bedroom) and prepare for new tile floor as specified by owner.
Install tile in upstairs bath.
Remove existing counter top in the kitchen and replace with new counter top and backsplash with material specified by owner.
Install new plantation shutters as selected by owner to replace existing drapes and mini-blinds in the living room and at the top of the stairs. Paint or stain as specified by owner.
Replace carpet in master bedroom.
Replace carpet in all upstairs rooms (excluding bathrooms).
Replace cabinets and hardware in all bathrooms
Option: Reface existing cabinets instead of replacing
Replace kitchen cabinets and hardware.
Option: Reface existing cabinets instead of replacing.
Option: Add new concrete patio 10′ from rear of house and the new addition to the other end of house. Slope patio to drain away from the house.
Alternate: Use pavers instead of concrete
Replace windows in master bedroom with French Doors